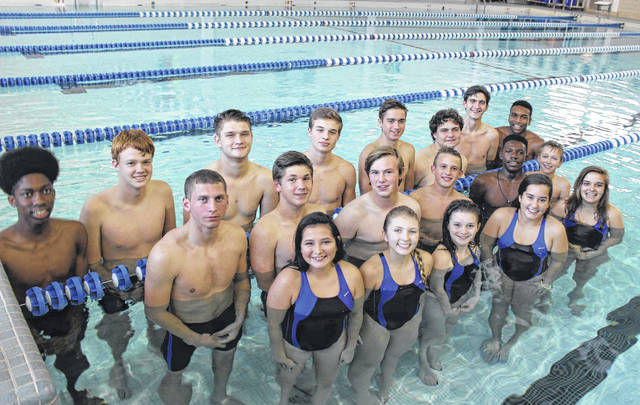 LAURINBURG — Scotland High School debuted its co-ed swim team last week in the first Sandhills Athletic Conference meet of the season.
In March, the Scotland County Schools Board of Education voted to add swimming, along with bowling, to the winter sports schedule at the high school.
Prior to the vote, each of the schools held interest sessions to find out how many students were interested in the sports. With around 30 swimmers interested in the program, school officials decided to make the team co-ed for the foreseeable future.
Once the decision was made to add swimming, an e-mail was sent out district wide over the summer to try and find a coach. Jennifer Carter, a second-grade teacher at Laurel Hill Elementary, responded that she would be interested in coaching the team.
Carter swam for Pinecrest during her high school years and wanted to take on the challenge of kick starting Scotland's team. This is Carter's first time coaching and says her teams progress over the last few months has impressed her.
"Starting from scratch their progress has wowed and amazed me," she said. "When we started with our open swim a lot of them didn't even keep their head in the water and have now learned all four strokes. They all have a great attitude, when I give them a piece of something to work on they are respective to try and try again until they get it."
The four strokes high school swimmers need to know are the back stroke, breast stroke, butterfly and freestyle.
With the back stroke, swimmers are on their back and use alternating circular arm movements that go behind the head. Legs are extended and a flutter kick is used.
Swimmers keep their heads above water with the breast stoke as they extend their arms in front of them making a circle as the hands come back together while the swimmers legs execute a whip kick.
The butterfly, made famous by U.S. Olympic swimmer Michael Phelps, this stroke uses a symmetrical arm movement with both arms coming out of the water. It also uses a wave-like body undulation and a dolphin kick.
The freestyle is the fastest stroke and features alternating arm movements over the swimmers head in and out of the water as the head turns out of the water to breathe. while the legs execute a flutter kick.
Carter said her team has also learned how to flip turn when they reach the wall, transition between their strokes and to dive off the blocks to begin a race.
"We're practicing our stamina, a lot of them were shocked that the events were 100 meters and not 50," Carter said. "So we're working on our distance. We're still working on our strokes, we have our 50s down and are still working on our 100s."
In high school swim meets, swimmers must swim two lengths of the pool or 100 meters for a majority of their races. One length of the pool is 50 meters.
Carter said her swimmers were surprised at how tiring swimming, using proper stroke technique, could be but says they are making great strides.
The co-ed team features five female swimmers and 15 male swimmers, having 20 students is a much larger team than Carter anticipated.
"This is way more swimmers than I thought we were going to have," she said. "I'm so excited that Scotland County finally has swimming and I think it's something the kids were really interested in having at the school. Several of the swimmers self taught over the summer because they were so excited for the team this year. It's just amazing and I think that's something the community should know about this group that they were so excited about competitive swimming coming to the county that they taught themselves."
Sandhills Athletic Conference opened its first swim team on Nov. 29 at St. Andrews University. Scotland was one of six schools in the conference starting a swimming program this season.
The other two members of the Sandhills Athletic Conference — Pinecrest and Seventy-First — have established programs and have somewhat of a leg up on their fellow schools.
Carter said the first meet was a learning experience for all of the schools involved.
"We were one of many new programs," she said.
Scotland will compete in its second conference meet at St. Andrews University's O'Herron Pool Wednesday, Dec. 6 at 6:15 p.m.
Amber Hatten can be reached at 910-506-3170 or ahatten@laurinburgexchange.com.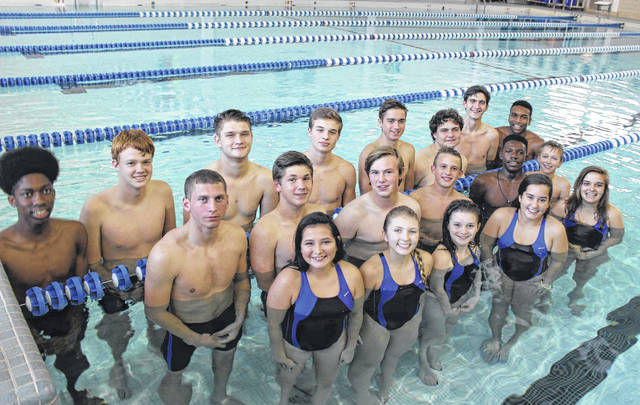 Amber Hatten | Laurinburg Exchange The inaugural Scotland High School swim team opened their season on Nov. 29. Members of the 2017 swim team include female swimmers: Ashlyn Soles, Skylar Locklear, Emily Stevens, Liza McIntyre and Portia Brigger; male swimmers: Redionysis Redionysis, Liam Lentz, Conner Berd, Quron McDonald, John Alec Caudill, Andrew Hamilton, Ethan Phillipi, Nicholas Eury, Kaleb Locklear, Aaron Haislip, Bradley Pate, Gabe Williams, Tyler Walters, James MacIntyre and Nyjel Collins-Jackson.