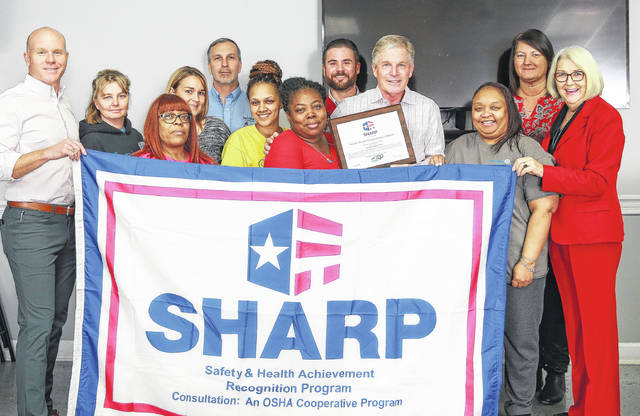 LAURINBURG —Service Thread was recognized this week as one of the safest manufacturers in the state.
NC Labor Commissioner Cherie Berry visited the Laurinburg facility's King Street location to present the company with the Safety and Health Achievement Recognition Program — SHARP — designation. She was joined by the company's CEO Chip Butler and many of Service Thread's 130 employees.
"Service Thread Manufacturing has had a long, storied history in Laurinburg, and the Department of Labor has also had a great working relationship with them for over a decade," Berry said.
SHARP is an Occupational Safety and Health Administration program that recognizes companies who have earned the honor by providing an exemplary safety and health management environment for their employees.
Berry said acceptance into SHARP signifies that an employer stands apart from its business peers as a model of workplace safety and health. Only 167 companies out of almost 250,000 in North Carolina have received the honor.
"We are proud of their attentiveness to safety and health at this facility, and are glad to present them with this important SHARP award,"Berry said.
To participate in SHARP, employers must request a consultation with OSHA at which all hazards are identified and corrected, and the site's workplace injuries and time lost due to injuries must be below the national average. SHARP participants must also notify OSHA of any changes in workplace conditions or hazards.
The program's emphasis on employee involvement in the program also help reduce operating costs, while increasing quality and productivity, officials said.
This is the third time Service Thread has been recognized with the designation in nine years, according to Jay Todd, chief operating officer for Service Thread.
"The award is an indication of how much we value having a good working environment for our employees," Todd said. "Safety is one of the most important things to us."
Todd called the SHARP designation "positive news" for the company and the community.
"This award is something that we are very proud of and something that Laurinburg can be proud of," he said. "It shows that manufacturing here in Scotland Ccounty is not just alive and well, but going above and beyond."
The 40-year-old company has a manufacturing plant on King Street and a warehouse and distribution center on Dana Road. Service Thread also has a sales office in Charlotte.
Service Thread designs and develops industrial thread and engineered yarn.
MQSC Digital Service Thread CEO Chip Butler, left with NC Labor Commissioner Cherie Berry and the company's COO Jay Todd after Berry presented the Laurinburg manufacturer with a Safety and Health Achievement Recognition Program designation.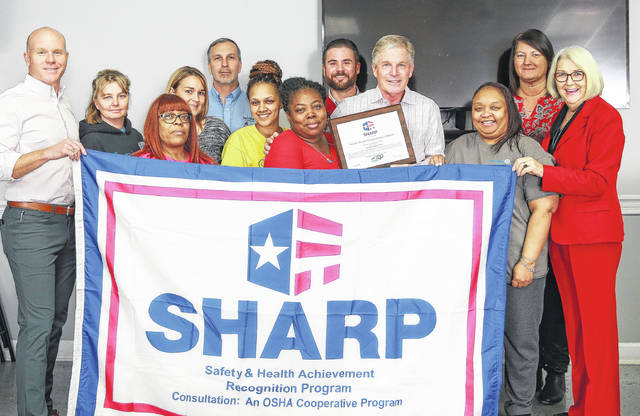 MQSC Digital The SHARP program recognizes companies who provide an exemplary safety and health management environment for employees.
Reach Scott Witten at 910-506-3023