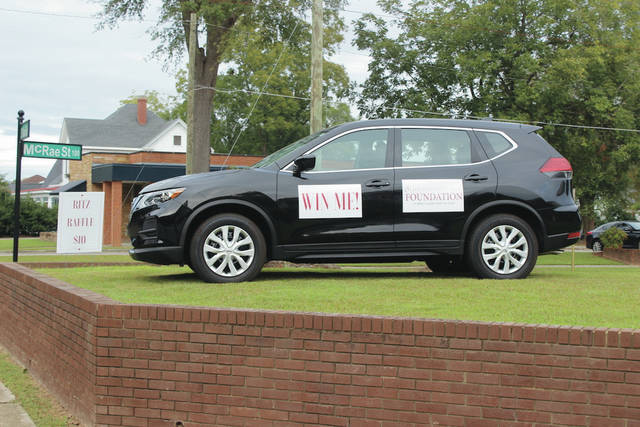 LAURINBURG — Individuals have the chance to win a Nissan Rogue as part of the Scotland Memorial Foundation Ritz Raffle.
Currently, 750 raffle tickets have been sold for a chance to win either the $19,00 SUV or a $10,000 check or a John Deer Gator valued at nearly $8,500.
Organizers hope to sell 3,500 tickets, but have typically sold 3,000 on average. A winner will be drawn on Nov. 4 at the Scotland Memorial Foundation's Putting on the Ritz — A Gala of Giving.
"As in the past with the Ritz , everything that we generate funds a variety of programs in the community," said Kirsten Dean, Scotland Memorial Foundation director.
Among the programs funded by the money raised by the Ritz, including the raffle, are community health screenings, community health programs, scholarships, support groups, free mammograms, the foundation endowment, Henley's Heart Fund Cardiopulmonary Rehab Patient Assistance Fund, the support of community programs, and helping patients with financial concerns.
In total, the foundation hopes to raise $200,000 from Putting on the Ritz, through silent auctions, tickets sales, and the Ritz Raffle.
About $45,000 of the funds raised will go toward the Scotland Cancer Center, the 2017 Fund the Need initiative.
"I wish everyone understood how caring this community is — not just to the Scotland Memorial Foundation, but to many other organizations," Dean said. "We have a very giving community."
Ritz Raffle tickets can be purchased at any Nic's Pik Kwik location, Southeastern Farm Equipment and the Scotland Memorial Foundation office.Tickets can also be purchased online at 501auctions.com/ritzgala by clicking the option on the left hand side, according to Dean.
The winner of the Ritz Raffle is responsible for all taxes, tags, title, and documentation of whichever prize they choose. Federal and state income taxes are the responsibility of the winner. Prizes valued over $5,000 require the Scotland Memorial Foundation to collect an IRS withholding payment of 31 percent before the prize is issued and transferred to the winner.
I.D. is required to claim a prize.
For information, visit www.scotlandhealth.org or call 910-291-7543.