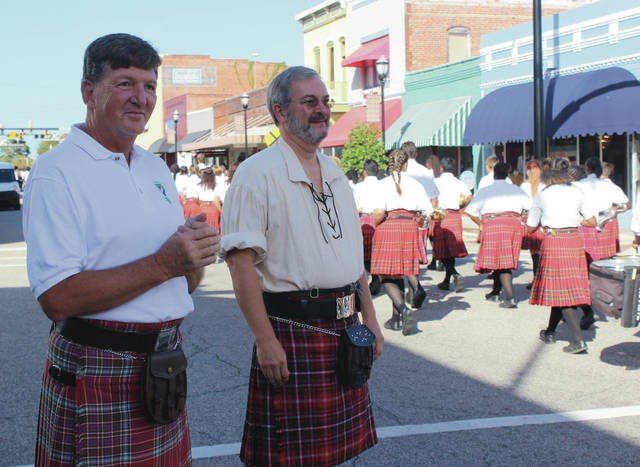 LAURINBURG — Whiskey drinkers from near and far got a taste, listen, and feel of Scotland during the 6th annual Scotland County Highland Games Whiskey Tasting Seminar on Friday.
The tasting, which has become one of the most popular events of the Highland Games festival weekend, had a record crowd of 104 people in attendance. In its first year, there were 35 people in attendance. Some guests Friday came from surrounding Hoke, Robeson, and Moore counties, South Carolina, and even Scotland.
"I think we got our southern hospitality from the Scottish," said Guy McCook, a Scotland County commissioner, who welcomed the guests and encouraged them to feel at home.
Co-hosts for the event, Noran Sanford and Allen Livingston had guests tasting single malts from all four corners of Scotland, as well as one blended whiskey. This year's whiskey was also picked for their moderate prices, with the most expensive bottle coming in at $85.
According to organizers, the price points were picked so guests could taste whiskeys that could be found and purchase in the North Carolina ABC system.
"Seeing some of the same faces from around the community and people just getting together to enjoy great drinks all in the same place is what keeps me coming back," said Tanner Capps of Laurinburg.
The whiskeys included:
Glenmorangie 10-year-old The Original — a highland whiskey from northeastern Scotland, just north of Inverness. A classic malt, creamy and fruity, pairs well with scallops.
The Macallan 12-year-old — a Speyside whiskey, aged in sherry casks, pairs well with tuna tartar.
Kilchoman Machir Bay 2014 — produced at the artisan farm distillery Kilchoman on Islay, with vatting of 5 and 6-year-old ex-bourbon barrels and Oloroso Sherry butts. This whiskey goes well with smoked cheese.
Bruichladdich Scottish Barley Classic Laddie — also from Islay, matured in American oak casks, and chosen to represent the classic, unpeated distillery style, made with 100 percent Scottish barley. This Scotch pairs well with Jenk's shortbread.
Johnnie Walker Green Label 15-year blended Scotch — this variety is a blended malt, meaning it is made just from single-malts with no grain whiskey added. Green Label uses predominantly four malts "drawn from the four corners of Scotland." Each of the malts, Talisker, Linkwood, Cragganmore, and Caol Ila, were selected by the blender for balance, with each malt whiskey matured for a minimum of 15 years. This blended whiskey pairs well with smoked salmon.
The five featured whiskey all had their own unique tastes, which saw a five-way split for the afternoon favorite spirit.
"I think this is a great event. This is my second whiskey tasting and this one has been a bit more festive than last year. With you homecoming coinciding with the whiskey tasting is pretty awesome," Capps said, who teaches at St. Andrews University.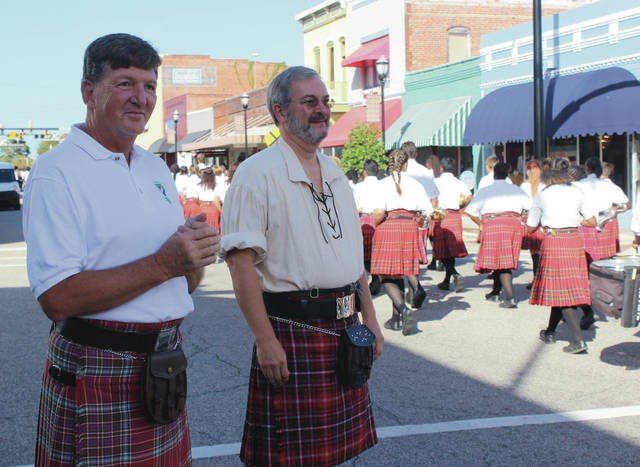 Nolan Gilmour | Laurinburg Exchange Former co-host of the Scotland County Highland Games Whiskey Tasting, William S. McIlwain, left, and Beachum McDougald take a break from tasting scotch to cheer on the Scotland High School marching band during the Homecoming Parade.
Reach Nolan Gilmour at 910-506-3171