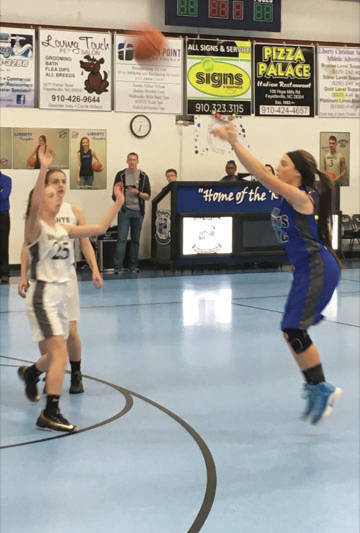 LAURINBURG — Scotland Christian Academy went 3-for-4 against Liberty Christian Academy in Fayetteville on Friday.
Both varsity teams picked up victories while the JV teams were split. The JV girls narrowly defeated the JV Lady Knights, 27-20 while the JV boys fell to Liberty Christian, 43-36.
The JV Lady Saints were led in scoring by eighth grader Kadence Sheppard with 10 points while fellow eighth grader Alexus Blackwell tallied six points. The JV Lady Saints improve to 6-2 overall on the season and traveled to Antioch Christian in Lumberton.
The JV Saints fell to Liberty Christian by seven points, 43-36. When the two teams met at the end of January, it was the Saints that were victorious by six points, this time the Knights got the better of them despite freshman Brodie Clark's 19 points.
The JV Saints other scorer was Lacota Locklear with six points. The JV Saints are now 9-1 overall and traveled to Lumberton on Monday to take on Antioch Christian.
VARSITY
Both of Scotland Christian Academy's varsity teams picked up wins over Liberty Christian.
The Lady Saints topped the Lady Knights 57-24 to improve to 10-2 overall for the season. The Lady Saints, as usual, were led by senior Destiny Cartrette with 21 points. Also scoring in double figures was eighth grader Kadence Sheppard with 10 points.
The Lady Saints were also in action on Monday in Lumberton against Antioch Christian.
Amber Hatten-Staley can be reached at 910-506-3170 or ahatten@laurinburgexchange.com.