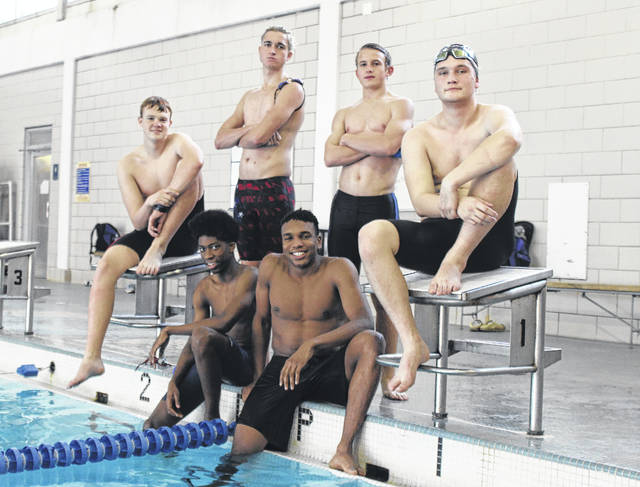 LAURINBURG — The Scotland High School swim team will send eight swimmers to this weekend's 4A Central regionals meet in Greensboro to compete in three relays.
Advancing to regionals in the first year of the program is something head coach Jennifer Carter is thrilled about but she was all business she put her team through their paces in practice this week.
"It's very encouraging for the program moving forward," Carter said. "We're very excited, it's going to be a good experience for our new team."
The Fighting Scots qualified in three relays — the 200-yard medley, 200-yard freestyle and 400-yard freestyle.
In order to qualify for regionals swimmers had to meet time standards for their designated events. The swimmers qualified for events as individuals, unless the event is a relay, there are no team qualifications.
Times that are at or under a certain threshold qualify automatically, while the remaining times above the cut-off are listed as under consideration. The Scots three times for each race were under consideration and were compared with all of the other times posted by the teams competing in the 4A Central region.
The Scots time of 2:06 in the 200-yard medley relay qualified them for 17th place out of 22 teams. The best time in the event was posted by a foursome from Green Hope of 1:36. The highest ranked Sandhills Athletic Conference team in the event was Pinecrest in 10th place with a time of 1:45.
The Fighting Scots foursome that will swim the 200-yard medley relay on Saturday will be, in order of how they will swim the relay, Nicholas Eury, Nyjel Collins Jackson, Gabe Williams and Conner Berd.
In the 200-yard freestyle relay, the Scots are ranked 22nd out of 23 teams with a time of 1:58. The best time in the 200-yard freestyle relay was posted by Grimsley High School with a time of 1:28.66 — just barely ahead of second-place Green Hope which posted a time of 1:28.75.
The Fighting Scots swimming the 200-yard freestyle relay are, in racing order, Liam Lentz, Redionysis Redionysis, Ethan Phillippi and Aaron Haislip.
In the 400-yard freestyle relay, the Scots are ranked 20th out of 21 team with a time of 4:37.67. Green Hope again is at the top of the rankings with a time to beat of 3:15.80 — four seconds faster than second-place Reagan at 3:19.47.
The Fighting Scots will put Haislip, Berd, Collins-Jackson and Williams on the starting blocks for the 400-yard free.
Carter said she isn't putting pressure on her team to finish in a certain place, just to do the best they can to beat all their previous times.
"Every time we strive to do better than the last time we swam that particular event," she said. "I wish I could have video taped them from the beginning to show them the progress they've made from the first week having never swam to how they are swimming now. Their technique has improved and their speed has increased."
Joining the Fighting Scots on the pool deck at the 4A Central regional from the Sandhills Athletic Conference will be conference champion Pinecrest, Jack Britt, Lumberton and Purnell Swett.
Both Jack Britt and Pinecrest will have swimmers competing in 13 of the 18 swimming events. The Patriots will also have Bayne Bennett competing in men's diving.
"Being on the pool deck at our conference meets the boys have made friends with the swimmers on those teams (Pinecrest and Jack Britt)," said Carter.
Carter, a 2010 graduate of Pinecrest High School, will return to Greensboro for the first time since high school when she swam in the 4A regionals. She is most excited to see the look on her swimmers faces when they see what an Olympic sized pool actually looks like.
"I'm excited for them to be in awe when they see the pool, because it's two 25-meter pools. It's stadiums and stands. I think when they walk in and see an Olympic type pool they are going to be shocked," she said.
The Fighting Scots will head to Greensboro on Saturday, Feb. 3 for the 4A Central regional which will be held at the Greensboro Aquatic Center, 1921 W. Gate City Blvd in Greensboro.
The facility opens at 2:30 p.m. and competition will begin following the 4:05 p.m. coaches' meeting. Tickets for the regional meet are $6 per person.
Amber Hatten-Staley can be reached at 910-506-3170 or ahatten@laurinburgexchange.com.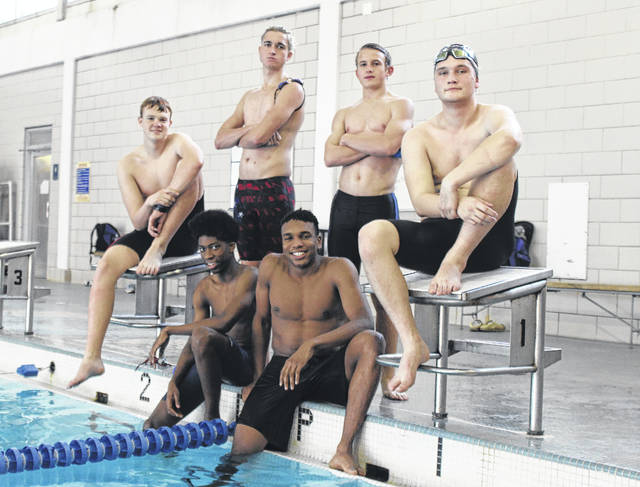 Amber Hatten-Staley | Laurinburg Exchange Members of the Fighting Scots swim team that will be competing in the 4A Regionals this weekend hit the pool Tuesday for practice. The Fighting Scots will compete in three relays — 400-yard freestyle, 200-yard medley and 200-yard freestyle. Swimmers, from left, Nicholas Eury, Gabe Williams, Conner Berd and Aaron Haislip. Front row, from left, Redionysis Redionysis and Nyjel Collins-Jackson. Not pictured, Liam Lentz and Ethan Phillippi.