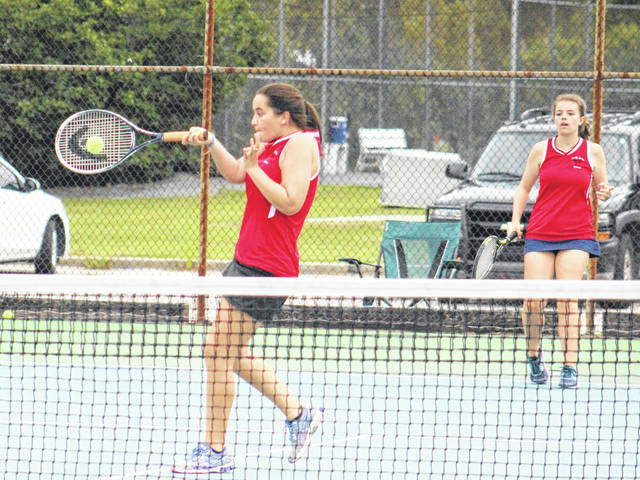 SOUTHERN PINES — The Lady Scots tennis team will be represented at 4A Mid-East Regionals by second doubles duo senior Kathryn Goodwin and junior Liza McIntyre.
The tandem, along with two singles players and the Lady Scots first doubles team, traveled to Pinecrest High School to compete in the first Sandhills Athletic Conference tournament.
Goodwin and McIntyre were ranked No. 13 out of 16 doubles teams in the conference and took on the No. 14 ranked duo from Purnell Swett High School Harlie Scott and Tierra Locklear. The Lady Scots won their first round match in three sets, 4-6, 6-4, 6-4 to advance to the second round.
The Lady Scots duo then faced off with Pinecrest's Maddie Arrington and Lizzie McClymont in round two. That match was much more one-sided than the first match as the Lady Patriots won in straight sets, 6-0, 6-0.
Goodwin and McIntyre battled the heat and humidity in their consolation match against Hoke's Jamie Moore and Madison Bishop. The win would advance the duo to the 4A regionals. Goodwin and McIntyre dug deep and won their consolation match in two sets, 6-3, 6-3.
"I'm excited and proud to have Liza and Kathryn going," said Lady Scots head coach Atondra Ellis. "With such a young team and less experience than most of our competition the Lady Scots performed well."
The Lady Scots other doubles duo of sophomore Samantha Bowen and Cheyanne Strong started Monday's conference tournament with a straight sets victory, 6-0, 6-0, over Hoke's Zaidee Burroughs and Lilly Cummings in the first round.
Bowen and Strong were seeded as the No. 4 doubles team and the win forced them to play Pinecrest twins Chappy and Claudia Ray in the second round. The Ray twins, as they did twice during the regular season, defeated Bowen and Strong in two sets, 6-0, 6-2.
The loss moved Bowen and Strong into the consolation bracket where they played Richmond's Destiny Buie and Kathleen Pittman. The duo dropped the first set, 4-6 before fighting back in the second 6-6 to force a tiebreaker. Bowen and Strong continued to play hard, falling in the tiebreaker, 5-7 to end their season.
The Lady Scots also had two seniors compete in the singles bracket — Justice McCrimmon and Karrigan Campbell.
McCrimmon played Purnell Swett's Abbi Lowry in her opening match falling in straight sets, 0-6, 0-6. Campbell played Hoke's Addriana Galaz for her first match and ended her season with an 0-6, 3-6 loss.
Goodwin and McIntyre's win advances them to the 4A Mid-East Regionals which will be held in Raleigh at Millbrook Exchange Park on Oct. 18.
Amber Hatten can be reached at 910-506-3170.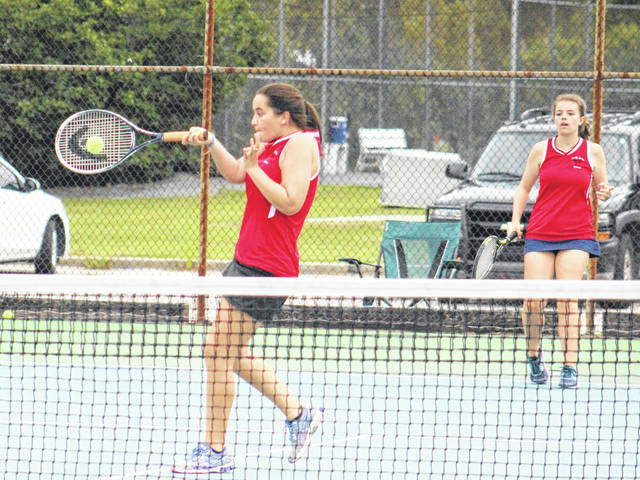 Amber Hatten | Laurinburg Exchange Lady Scots second doubles duo Liza McIntyre and Kathryn Goowin will represent the team on Oct. 18 in Raleigh in the 4A Mid-East Regionals. McIntyre and Goodwin along with the rest of the Lady Scots competed in the Sandhills Athletic Conference tournament on Monday in Southern Pines.