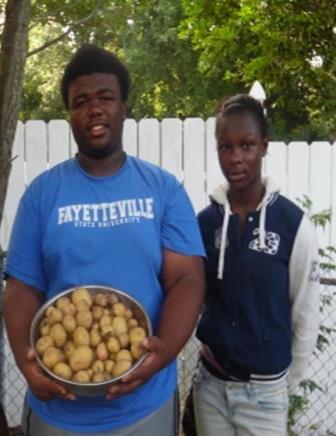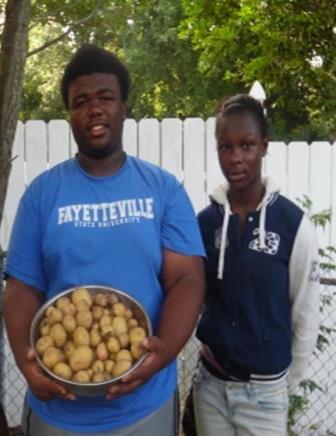 JaVon Quick shown with produce he helped to harvest through Katie's Krops in Lexington, South Carolina.
To the editor:
My name is JaVon Quick and I live in Rockingham. I would like to express my sincere gratitude to Katie's Krops for the opportunity and continuous support to alleviate hunger around the globe. In December, during the Christmas holidays, my mind thought of all the hungry people in the world. I spoke to my grandmother Sharon Harris about my concerns and she said let's look and see if there are any grants available for youth to do something about this problem. We ran across a garden grant, Katie's Krops, which empowers kids to end hunger one vegetable garden at a time, where youth are afforded the opportunity to oversee and plant a garden from beginning to end of produce, with the stipulation that all produce must be given back into the community by way of a foodbank, church, soup kitchen, or door-to-door.
I guess it all started with Partners In Ministry. I became a member of The Youth Empowered to Succeed Program when I was 14. This is a leadership development program that blends traditional employment and training activities with youth development activities, such as maintaining positive relationships with responsible adults and peers, opportunities for community service and developing leadership skills. This program is designed to provide an appropriate range of services based on the needs of youth as they grow and mature. The YES Program has a community garden in both Richmond and Scotland counties designated to help alleviate hunger where youth work alongside volunteers obtaining skills from the planting of the seed to harvesting produce. This year we are also working on building a mobile produce stand to sell our produce and to get some experience in starting and running a small business!
I had the opportunity to be awarded the chance to attend Katie's Krop Camp July 8-11 in Lexington, South Carolina. I learned so much about gardening and had the opportunity to work alongside the Katie's Krop staff. This camp was sponsored by with the support of WP Rawl and GoldenSun Marketing.
I just want everyone to know how awesome a time I've had working on this project and would like to give thanks to the people who have inspired this gift of giving back into the lives of others. And if it is only some corn, tomatoes, potatoes, cucumbers, or any other produce that is harvested, just knowing it helping to alleviate poverty and hunger it's worth it. Thank you Partners In Ministry and Katie's Krops. Please check out their websites www.pim-nc.org and www.katieskrop.com to learn more and to get involved!
JaVon Quick
Rockingham