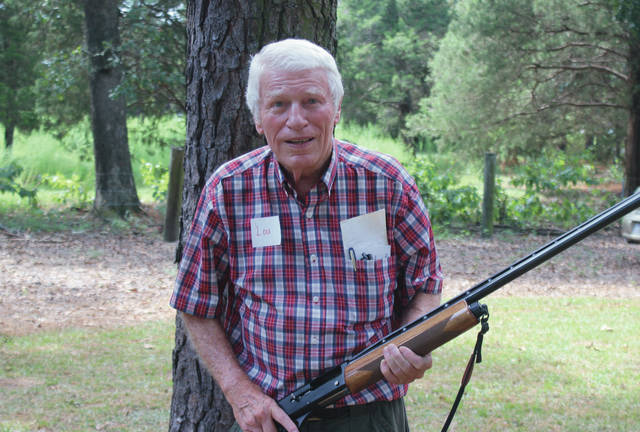 LAURINBURG — Over the last half century, the Henderson family of Maxton has opened the dove hunting season with friends, and this year the gathering took on a new purpose.
Lou Henderson, has carried on his father "Doc" Henderson's annual dove hunt on the family's land since 1981, saying the event is based around fellowship and not just the hunt.
According to Lou Henderson, the event originally started in 1954, when his father started out with 12 friends hunting at his home in Maxton and the annual hunt has grown every year since.
Until this year, the event has been the"Doc Henderson Memorial Dove Hunt." On Saturday, the hunt was renamed "Kay Henderson Memorial Dove Hunt," to honor the Henderson's late wife, who died in July.
Kay Henderson suffered from a stroke at the age of 45, and was disabled as a result, according to Lou. She was always at the annual hunt, even during her last few years in a nursing home, Lou Henderson said.
"She enjoyed the dove hunt as much as she enjoyed anything after she became disabled," the 75-year-old said. "Being with the family and close friends at dove hunt and being with family at Christmas were her three favorite things.
About 125 friends and family members of the Hendersons including 38 hunters, gathered at Lou's home that his family has owned since 1926. The group was treated to a meal of barbecue pork, Brunswick stew, cole slaw, collar greens and dessert.
"Back in medical school, we came out three or four years in the early 1960s," said Dr. Jack Phillips of Kinston, who started coming to the hunt again in 2014. "It's just nice to get together with all of the people here."
For Lou Henderson, dove hunting season has always been a family affaiir. He first began harvesting doves when he was 12-years-old with his father and two older brothers. He said part of the event is also to teach young people how to hunt, like he was when he was growing up.
Holly Pilson, Lou Henderson's youngest daughter, agreed.
"The best part of the dove hunt is see all of our family friends," she said, adding that her mother always looked forward to the hunt.
Dove hunting season in North Carolina runs from Sept. 2 to Oct. 7 and from Nov. 22 to Jan. 15. Lou Henderson held an additional hunt on Wednesday and plans another on Saturday, starting around 2 p.m.and going past 7 p.m.
"Our group of people are gentleman hunters," he said. "I always look forward to the fellowship and food, and if we have a lot of doves flying, that would is a bonus or icing on the cake."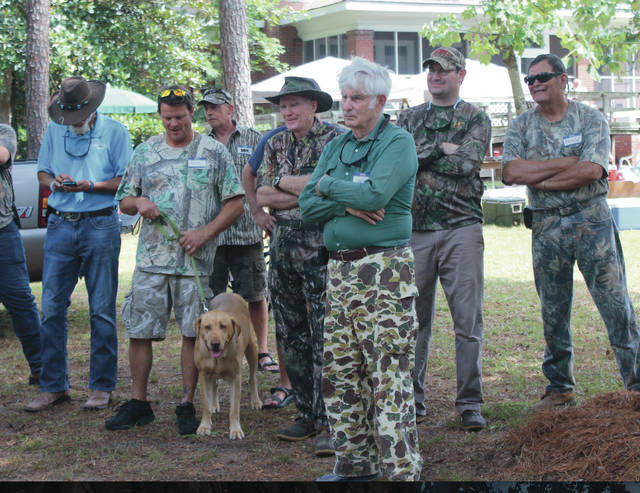 Nolan Gilmour | Laurinburg Exchange Hunters gather to hear Lou Henderson, the host of the first annual Kay Henderson Memorial Dove Hunt, before heading out to the fields to harvest dove on Saturday.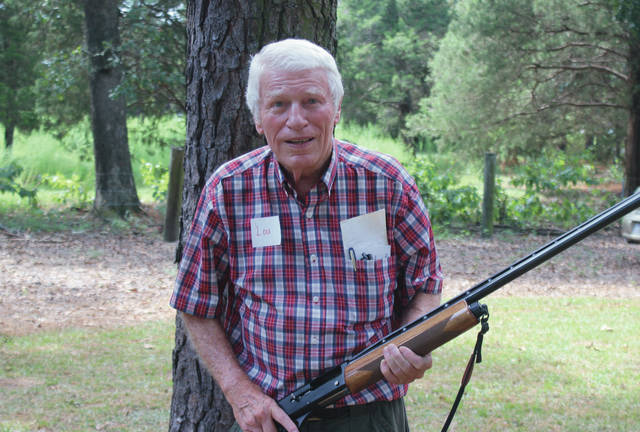 Lou Henderson
Reach Nolan Gilmour at 910-506-3171