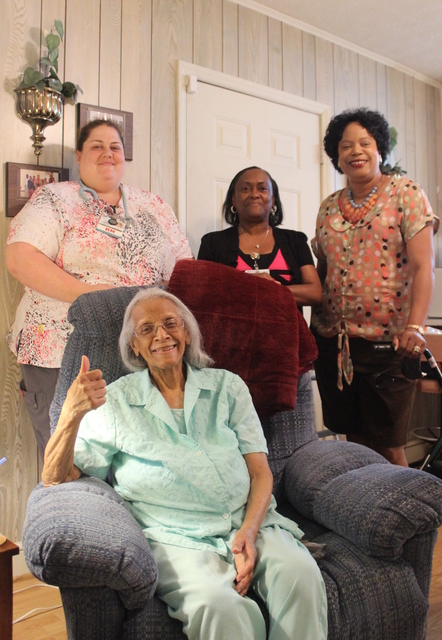 Fannie Gilmore, seated, with, from left, Hospice of Scotland County nurse Nikki Cummings, Hospice family support manager Pennie Thomas, and daughter Cheryl Merritt.
LAURINBURG — Diagnosed with colon cancer last June and now under hospice care, 90-year-old Fannie Gilmore believes that her meeting with angels is probably close at hand.
Then again, in her estimation, she has already met a few.
For Gilmore, who was told "the most devastating news in the hospital one could ever hear," reassurance, serenity, and a renewed zest for life have come from the staff at Hospice of Scotland County.
"I believe there are angels in the world; there are groups of them here, they work in shifts," Gilmore wrote when chronicling her 10 days at Morrison Manor. "Each one is a clone of the other. It was evident right away that all the angels have one purpose in mind: make the patient as comfortable as can be at all times in every way."
That discovery came as a pleasant surprise for Gilmore, who entered hospice care warily, like many considering it as a place where people go to die out of sight.
But Gilmore's "Rock of Gibraltar," her daughter Cheryl Merritt, said that on the contrary hospice care is helping her mother continue to live.
"The thinking, in and around the community, has been that I'm going to go to Hospice and I'm not ever going to leave that building," Merritt said. "She has been so pleasantly surprised. You begin to live with a disease as opposed to trying to reverse a disease."
Back at her McGirt's Bridge road home this week and preparing to travel to Merritt's home in Charlotte, Gilmore is the embodiment of her favorite maxim: let go and let God.
"I'm concentrating more on living a full life, enjoying it, being grateful that God has saved me, and even going through this experience I'm grateful that he has fixed me so I can bear and go through this," she said.
"I'm focused on living life fully and searching myself to see if there's anything there that needs fixing. I'm sure something needs fixing."
Facing with equanimity her diagnosis and the time she has left, Gilmore has taken stock of her nine decades of life — as the youngest daughter of Scotland County's first black surgeon, as one of the first black teachers in a predominantly white school after integration, as a mother, grandmother, and great-grandmother — with satisfaction.
Born in Moore County in 1880, Gilmore's father Nathaniel Jackson was described in the 1921 "History of the American Negro, North Carolina edition" as "one of the earnest, successful physicians of eastern North Carolina."
Jackson worked as a general practitioner at Scotland Memorial Hospital, both at the Laurinburg-Maxton Airbase and on McLean Street, serving alongside other prominent physicians such as F.M. Patterson, James Richardson, and Edwin Womble.
Convinced for a time that she wanted to follow her father into the medical profession as a nurse, "because they had cute little white caps and I thought that was endearing," Gilmore's dream was dashed after she attempted to assist with an in-office tonsillectomy.
"He had his nurse and assistant and they were taking this person's tonsils out, and I was the gopher girl," she recalled. "They started giving the patient ether and I fell out. They teased me: the nurse went to sleep before the patient."
After graduating from Bennett College in Greensboro, Gilmore began her career as a teacher — like her sister Annie, older by 14 years, who taught Gilmore's fifth grade class — in Baltimore, an area she did not find to her liking.
Returning to Laurinburg, she taught at South Scotland for six years under her husband Walter Gilmore, the school's first principal.
"I called him Mr. Gilmore at school, and forgot sometimes and called him Mr. Gilmore at home," she said.
Gilmore was among the initial group of seven black teachers to move to historically white schools during integration, moving to Covington Street under principal Frances Fletcher.
"Mrs. Fletcher ruled this ship: she was strict, but she was fair, and she didn't take any foolishness and we just got along very well together," said Gilmore.
"She very discreetly set up who I would have in my class so that the parents could make the children comfortable. It was a very good year, my first year there."
Now devoting much of her time to selecting photos and service hymns, Gilmore doesn't think in terms of the days, weeks, or months she may have until they come into use. But quietly slipping away in her sleep is not in her plans.
"I did say, Lord, please now, don't let it be sudden," she said. "Give me 24 hours or 48 hours notice so I can sort of get adjusted to that part."
Since her cancer diagnosis, successful surgery, and learning that the cancer had metastasized beyond the reach of a scalpel, no one has been more surprised by Gilmore's level of composure and sang-froid than Gilmore herself.
"I worry like I've been paid by the hour to worry, but now I'm free of fear," she said. "How do I have the nerve to have that kind of calmness? It's coming from God."
Mary Katherine Murphy can be reached at 910-506-3169.