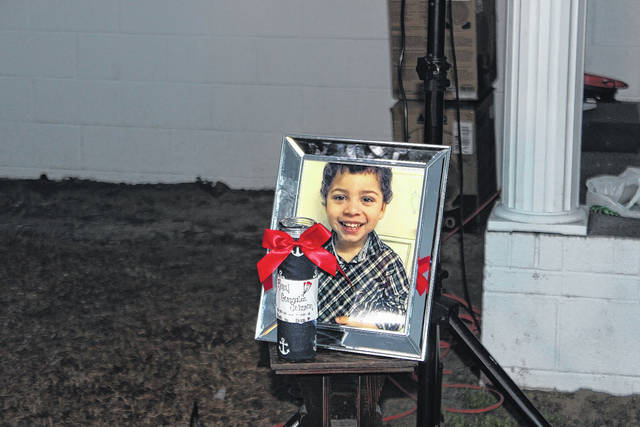 LAURINBURG – As the investigation into the death of Raul Gonzalez Johnson wrapped up early this week, the community began the process of grieving.
On Monday evening just over 100 people from Scotland and surrounding counties joined the family in celebrating the life and mourning the loss of Raul.
The four-year-old went missing on Jan. 24 while his grandfather was cooking lunch. His body was located in a pond 800 yards away from his home on Saturday.
On Tuesday afternoon Scotland County Sheriff's Office received the results of the autopsy from the state medical examiner.
"The cause of death is accidental drowning. There were no other signs of foul play. We are reviewing the results from the medical examiner," said Detective Sgt. Jessica Sadovnikov who led the search for the little boy. "The DA's office has requested a meeting with the sheriff's office to review the case over the next few weeks."
Low-hanging clouds threatened rain and a biting wind whipped through the area as mourners filed into the churchyard of Good News Chapel Church on Pea Bridge Road to light candles in memory of the little boy with chubby cheeks and a bright smile. The church served as the command center in the search for Raul.
Margie Harrington of Maxton did not know the family but brought her great-grandchildren Loyalty Bethea and Kaizon Brown to the service.
"We was on the way to South Carolina and my grandson said he wanted to be a part of it. I got almost to Clio and turned around," Harrington said. "They don't know them — the family — but they can come and support them. When a tragedy like this happens it don't only affect the family, it hurts everybody."
Laura Thompson and her family attend Northview Harvest Ministries with members of the child's family.
"We don't know them personally, but we came to support the family," Thompson said. "It's been hard on everybody. My husband went and searched with other groups on Thursday."
The service to honor the child included songs and words of encouragement to the family from local pastors.
Charles Lowery knew the family and was one of the first people to volunteer to help search for the child last week. Lowery was asked to sing "The Anchor Still Holds," at the memorial.
Carlos Tobias, Raul's uncle said the family is hurting but takes comfort in knowing that the preschooler is in Heaven.
"They're strong because they know where Raul is now. They're still hurting, that's normal, that [news] is not what we wanted to hear, but [they are] strong because prayers make a difference," Tobias said. "I want to say thank you to all the sheriffs and police, detectives, FBI and everybody who did their best to find Raul and didn't give up. I appreciate that the public has been praying and supporting the family."
Tobias was in another town handing out missing fliers when he got the news that Raul had been located. He shared a fond memory of the child and said he believes that Raul's death can be used to bring people to God.
"I last saw him on Tuesday(Jan. 23) at about 7:20. Every time he sees me, he thought that I was a punch bag…When I heard that they found him, it tore me up" Tobias said. "He's in a better place now in heaven. That little baby is more alive than you and I right now because he's in heaven."
The short service was opened by Rev. Richard Tyson who lifted the family in prayer and reminded mourners that Raul was now in the "hands of a loving, merciful God."
Rev. Brian Oxendine delivered a sermon on the topic of grief and healing.
"We all find ourselves facing great sorrow, and we all want to know why. God extends his grace to us; God sees your pain, and his presence is here tonight," Oxendine told a tearful family.
Oxendine's sermon was followed by a performance of Mandisa's "You Wouldn't Cry," and a third singer shared Danni and Lizzy's "Dancing in the Sky."
Following the service the family released a bouquet of blue balloons, Raul's favorite color, with characters from "Paw Patrol," which was his favorite cartoon show.
A second prayer vigil was held Tuesday night at the James L. Morgan sports complex and afterwards, mourners caravanned to McDougald Funeral Home for visitation services.
Raul's funereal will be held at Northview Harvest Ministries at 17760 Log Cabin Road at 2 p.m. on Jan. 31.
The sheriff's office has confirmed that there is only one official GoFundMe account set up for the family to help pay funeral expenses. The account hosted by Rich Regardless Brolly Dino had collected $1,623 of its $5,000 goal as of Tuesday afternoon.
Margie Harrington lights candles for her great-grandchildren who wanted to attend the vigil for little Raul.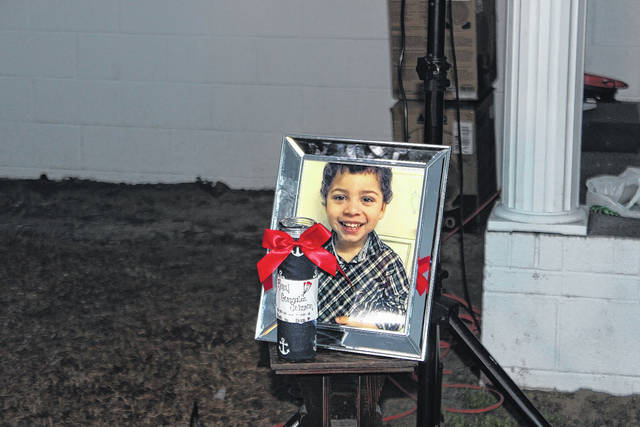 A picture of Raul Gonzalez Johnson smiled back at those who came to memorialize the child and support the family in their grief on Monday evening.
Reach Beth Lawrence 910-506-3169