LAURINBURG – On Friday, the FBI officially joined the search for four year-old for Raul Gonzalez who went missing on Wednesday.
Throughout the day Friday, investigators reexamined evidence for anything they may have overlooked in the early stages if the inquiry. Detectives also re-interviewed witnesses and family members. NC Highway Patrol conducted road block canvases in the area hoping to garner new clues or information that might lead them to the child.
Agents from the a special team of FBI investigators will assist in the investigation, according to Supervisory Special Agent Jason Kaplan.
"We've deployed assets from all over North Carolina and from the FBI headquarters to include our Child Abduction Rapid Deployment team," Kaplan said. "The CARD team is a group of highly trained and experienced subject matter experts in cases involving missing children."
The agency has also added a missing poster to its website FBI.gov.
The case is still being treated as a missing child investigation. There is currently nothing to indicate that family members may be involved in the boy's disappearance, but officials are not ruling out any possibility.
Detectives had considered the option of draining two ponds near the child's home. The first is a pond in the Oak Grove area. The second is a man-made pond on a farm on Crestline road belonging to Joe Manis, owner of Manis Custom Builders.
The farm is 800 yards away from the child's home, according to Sheriff Ralph Kersey.
Evidence found nearby caused searchers to center their efforts on Manis' pond. Multiple sets toddler-sized foot prints were found in the mud around the pond, according to Kersey. Detectives believed the prints were fresh because rain that fell in the area overnight Monday would have washed away old prints. Multiple search dogs repeatedly led rescuers to the pond.
Dive teams from Marlboro and Cumberland counties searched the pond and used sonar equipment on Wednesday and Thursday in an attempt to locate the child. The pond is five feet deep around the edge and up to eight feet in the center.
"We're working to make arrangements to drain that pond to be 100 percent certain that Raul is not in there," Kaplan said. "Whenever you do an operation like that you want to make sure that you're working in conjunction with landowners. There's a lot of technical equipment that needs to be used so it takes coordination for us to do that."
Officials decided to drain the pond late this week because they believed it was possible that boy's size could make it easy to miss a body in the deep, murky water, Kersey said.
Draining the pond could take anywhere from a day and a half to a few hours depending upon equipment available, officials said. If officials are able to use all of the county's pumper firetrucks, the job can be accomplished within a few hours.
The search will not be called off until officials are certain that all avenues have been exhausted, said Emergency Services Director Roylin Hammond.
"At this point in time, we have very few clues to help locate him. We are continuing to search and we will not call this search off until we have had a very, very high percentage of certainty that we have searched all available locations and all the places we could possible look for him," Hammond said.
The child has been missing since Wednesday from his home on Village Drive.
The last person to see the boy was an elderly neighbor whom he sometimes visits for snacks. The woman sent the boy home Wednesday at 10:30 a.m. and said she last saw the boy headed in that direction.
Raul and his six-year-old sister, who was out of school sick, were being watched by the children's grandfather while their mother, Annie Johnson was at work. When the grandfather noticed the child was missing, he looked for Raul on the property for an hour before calling authorities.
The boy had gone missing for 30 minutes on Tuesday as well.
Raul stands 3-feet tall and weighs 47 pounds. He has brown hair and brown eyes. He was last seen wearing a white and orange tiger striped shirt and pajama pants with rocket ships on them. He was barefoot.
Reinforcements
The sheriff's office also brought in additional personnel Friday to give exhausted county officers and first responders who had been working around the clock a chance to rest. Over 300 law enforcement and other first responders have been searching for the child since Wednesday.
"The public can expect that sworn law enforcement personnel will double if not triple today. Scotland County Sheriff's Office will continue lead the investigation with the assistance of multiple agencies across North Carolina, the SBI and the FBI," Sadovnikov said.
Sadovnikov urged residents to continue to be alert for Raul and to not hesitate to call if they had information.
She expressed the office's gratitude to the assisting agencies and the public.
"We've got assistance from as far away as Richmond, Virginia and the volunteers who showed up, we're so grateful to them especially for the people who donated food. That's been a big help. If we had not had it, some of us would not have had a meal."
The county has set up a tip line in order to channel all incoming information through one source instead of having callers go through multiple sets of people.
Beth Lawrence | Laurinburg Exchange Deputies blocked off intersections at Pea Bridge Road and Crestline Road in order to keep people from straying into the investigations or command center at Good News Chapel Church.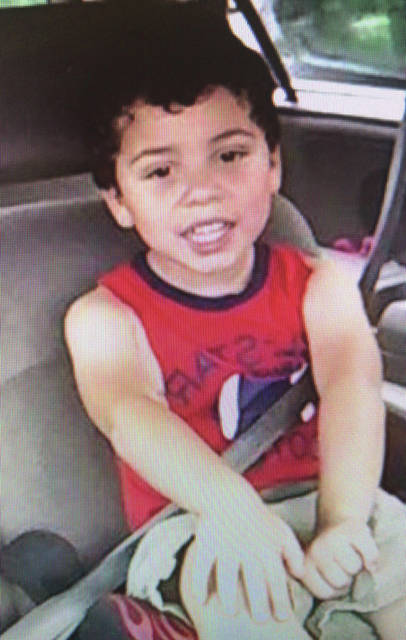 Raul Jacobs
Beth Lawrence | Laurinburg Exchange Scotland County EMS Director Roylin Hammond, FBI Agent Jason Kaplan, Sheriff Ralph Kersey, and Andreas Deitrich of NC Highway Patrol gave an update Friday evening on the search for Raul Gonzalez.
Reach Beth Lawrence 910-506-3169