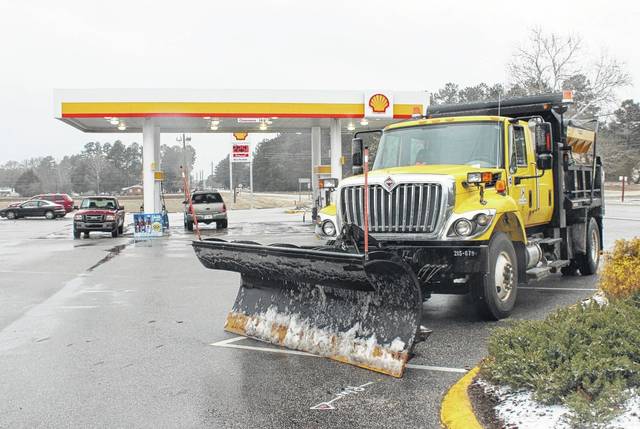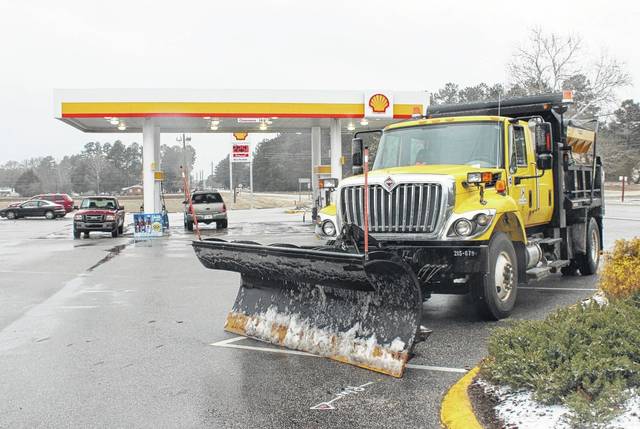 File photo There is a possibilty of snow and freezing rain later in the week.
LAURINBURG — A big dose of winter weather is forecasted to grip Scotland County and the rest of the region later this week and into the new year, according to the National Weather Service.
That includes a chance of snow and freezing rain.
"Everyone should be prepared for very cold air this week along with some threat of wintry precipitation late in the week," according to the hazardous weather outlook issued by the National Weather Service. "Very cold air will arrive in several installments throughout this week. Bitter cold air is then expected late next weekend, with even colder temperatures, possibly as low as 10 to 15 degrees."
The forecast is calling for a 20 percent chance of a rain/snow mix on Wednesday with a high of 43 degrees and a low of 23 degrees. Thursday, there is a 20 percent chance of snow with a high of 37. Once the sun goes down the chance of a wintery mix increases to 50 percent and the low drops to 22 degrees.
Friday, the chance of snow increases to 30 percent during the day with a high of 40 degrees, once evening hits the temperature dips back into the low 20s.
On Saturday, the temperature is expected to fall into the teens in the evening with a high during the day of 44 degrees.
Travel tips
Being aware of the weather conditions when traveling is crucial to ensuring a safe journey. According to the Department of Transportation, each year 24 percent of weather-related vehicle crashes occur on a snowy, slushy, or icy pavement and 15 percent happen during snowfall or sleet. More than 1,300 people are killed and more than 116,800 people are injured in vehicle crashes on snowy, slushy, or icy pavement annually.
There are several steps you can take to avoid being caught unaware on the road in a hazardous winter event.
— Utilize your local National Weather Service office: Just because it's sunny and clear when you depart doesn't mean it will stay that way for the duration of your trip. Make sure to check the hourly conditions at your local NWS office.
— Check the road conditions along your route: Weather conditions often change quickly when you travel through locations with varying landscapes. Be sure to check the current road conditions and updated alerts or advisories for the roads and highways you will be traveling on. This site contains a comprehensive list of current road conditions listed by state.
— Stay mobile with your mobile: Having access to the most up-to-date weather warnings and advisory information is now easier than ever. Wherever you are, you can get the local weather forecast from the National Weather Service with one click on your home screen by visiting mobile.weather.gov and bookmark it to your phone. Make sure that you have the latest weather news and information on the go so you can stay on top of fast-changing winter weather conditions.
— Winterize your vehicle: No one likes encountering car problems at any point during the year. But fast-changing and harsh winter conditions can be particularly brutal on your vehicle. Take a look at this checklist provided by the National Highway Traffic Safety Administration for some tips on preparing your car for the winter.
— Have a winter weather emergency kit: Like your mother always said, "It's better to be safe than sorry". Even with full preparation, surprises are bound to happen with weather conditions. Make sure Mother Nature doesn't catch you off guard by having some basic winter weather tools packed in your car at all times. Check out some of the items you should consider bringing along with this list provided by ready.gov.
Amber Hatten-Staley can be reached at 910-506-3170 or ahatten@laurinburgexchange.com.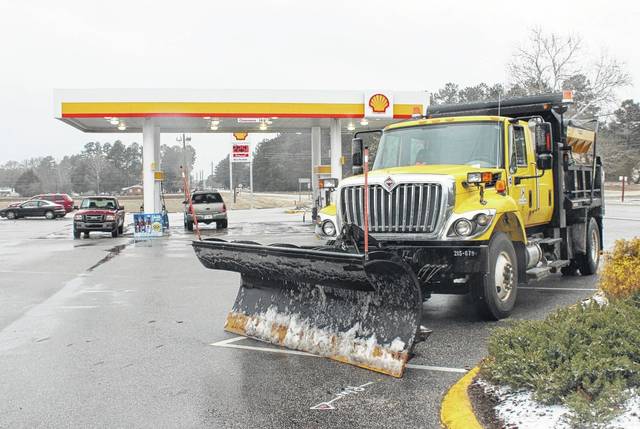 File photo There is a possibilty of snow and freezing rain later in the week.