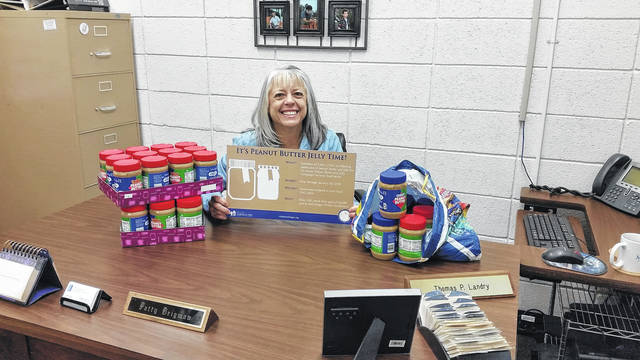 LAURINBURG – The Scotland County Guardian Ad Litem program is partnering with the state Ad Litems to collect supplies for the North Carolina Food Bank.
From now to Jan. 20 Guardian Ad Litem offices from across the state will act as food bank collection points for plastic jars of peanut butter and jelly, according to Patty Brigman, of the Scotland County GAL.
Scotland County's guardian program participates as a way to give back to the community that provides its volunteers.
"We wanted to do something, especially since we deal with kids. The food bank is a place people can go in emergencies, and that peanut butter and jelly will last them a little while," Brigman said. "We also wanted to give back to the community for what they give to us − our volunteers. We wouldn't be able to do our job if not for volunteers giving their time."
Those interested in making donations can drop them off near the entrance at the Scotland County Courthouse, 212 Bigg Street. Brigman has placed a box wrapped in Christmas paper to the left of the doors to make it convenient for people to leave their contributions. She stressed the fact that the donations need to be in plastic jars.
Brigman will also make pick ups if donations are large enough.
The Scotland County office wants to beat its total from last year.
"Last year we collected about 176 jars; we really want to at least double that number this year," Brigman said. "We've got a lot of peanut butter so far, but we're still a little behind on jelly."
After Jan. 20 the staples will be taken the Sandhills Branch of the Food Bank of Central and Eastern North Carolina at 195 Sandy Ave. in Southern Pines to be distributed.
The Sandhills branch serves Lee, Moore, Richmond, and Scotland Counties.
"Anyone from Scotland County can go to the food bank in Southern Pines," Brigman said. "We're taking it there because they don't have a branch here."
North Carolina Guardian Ad Litem's goal is to collect 10,000 jars statewide.
The state GAL organizers chose peanut butter because it is an item that food banks frequently request. Jelly was added out of nostalgia.
"We added the collection of jelly because we were all once children, and we fondly remember peanut butter and jelly sandwiches as a staple of a happy childhood," the program said in a press release.
The Guardian Ad Litem program represents the interests of children in the foster system during legal proceedings while the child is in the custody of the state.
The Guardian ad Litem program of the Judicial 16-A District serves Scotland, Hoke, Richmond, and Anson Counties. Last year the organization helped protect the well being of 270 abused and neglected children in the region.
For information about the food drive or to volunteer as a guardian, call Tom Landry or Patty Brigman, at 910-266-4531 or 910-266-4530.
Combating hunger
Food insecurity continues to be an issue across the state. Over 651,000 people struggle to obtain not only nutritious food but enough food, according to the Food Bank.
This year Church Community Services of Laurinburg distributed food 92 percent of the time its doors were open, according to Director Leslie Womack.
"We gave out 6,286 bags of food the first ten months of this year," Womack said. "That's not counting the people who came on Fridays to get soup and crackers for soup day."
Over the Thanksgiving holiday five local churches and Church Community Services fed 437 families, according to Womack.
A 2014 study done by Feeding America estimates that half of people who receive assistance from the Food Bank are children and seniors. Over 55 percent of households served have at least adult who has not been employed in the current year, and 21 percent of households include grandparents raising their grandchildren.
Seventy-seven percent of families reported being forced to choose between paying for prescriptions or buying groceries.
Those interested in supporting food pantries in town have numerous options to choose from, according to Womack.
Food pantries have lists of preferred items that keep well and serve the nutritional needs of recipients, according to Womack.
The shopping list includes: macaroni and cheese, canned fruit, canned tuna, canned chicken or salmon, Spam, beef stew or chicken and dumplings, canned vegetables, small bags of rice, peanut butter, jelly, spaghetti sauce and noodles.
Families needing assistance can reach out to one of the following:
− Restoring Hope Center: Monday, Tuesday, and Friday at 507 Warren Ave. For information, call 910-276-4460. An appointment is required.
− Hope in Christ Ministries: every Thursday at the Church of the Nazarene at 11121 Turnpike Road 910-276-1835.
− Star of Bethlehem Baptist Church: the first Thursday the month at 9 a.m. at 1200 Caledonia Road.
− St. Luke United Methodist Church: the second Saturday of the month at 8 a.m. at 1501 Turnpike Road.
− First United Methodist Church: the third Saturday the month at 9 a.m. at 101 W. Church Street.
− Jerusalem United Methodist Church: the third Saturday of the month at 9 a.m. Johns Road, John's Station.
− Church Community Services: every day that food is available at 108 Gill Street 910- 276-8330. Church Community Services also acts as a liaison for the Emergency Food Assistance Program.
− New Covenant Christian Church: the first and third Monday of the month from 2 to 4 p.m. at 9460 Andrew Jackson Highway, Laurel Hill.
− Partners in Ministry: the second and fourth Saturdays of the month at 10 a.m. at the old East Laurinburg School at 12 3rd Street, East Laurinburg.
− St. John's United Methodist Church: soup Kitchen the fourth Wednesday of the month 6040 N. Main Street, Gibson.
− Galilee United Methodist Church: November to February free lunch on Thursdays from 11 a.m. to 1 p.m. at 941 McGirt's Bridge Road.
− Living Water Church of God: free breakfast every Tuesday at 10 a.m. and free dinner for people age 53 and over every third Thursday at 5 p.m. at 13200 Blue's Farm Road.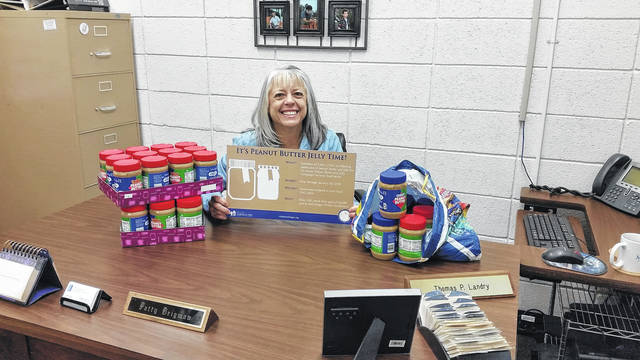 Beth Lawrence | Laurinburg Exchange Guardian Ad Litem representative Patty Brigman shows off a few of the jars of peanut butter the program has already collected for the food bank. Collections will continue until Jan. 20.
Reach Beth Lawrence 910-506-3169