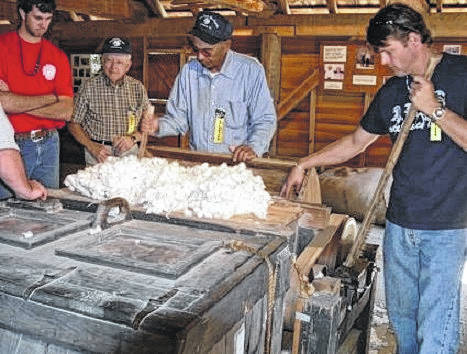 LAURINBURG – John Blue Cotton Festival began 34 years ago as a way to educate school children about early farm life, but it has since become a much anticipated community gathering.
This year's festival will be held Saturday and Sunday from 10 a.m. to 5 p.m. on the grounds of the John Blue House at 13040 X-Way Road. Admission is $5.
The first event some 34 years ago was a display of antique machinery and displays about farm-life and the life of inventor John Blue, according to historian and descendant Jim Blue.
That display soon grew into the John Blue Cotton Festival that is now equal parts country fair, hoedown, social gathering, history museum and crafter's paradise.
Saturday's entertainment lineup includes Glamour Athletics at 12:30 p.m., Karen Gibson School of Dance at 1:15, Jimmy Blue at 2, Crazy Feet Cloggers at 2:45 and Crystal McInnis School of Dance at 3:30. On Sunday the Embers beach music band will take the stage at 1 p.m. and perform until 4 p.m.
Shoppers and crafters will find an array of handmade items from door wreaths and decorations to jewelry spread out over the grounds near the historic cabins.
Food aficionados will have access to fair staples like funnel cakes, barbecue, cakes and collard sandwiches from vendors and local churches, according to Blue.
Reminiscent of the county fair days gone by is the Old Timey Fair competition.
"It goes back to when you had County Fairs and ladies would enter their cakes, pies, jellies, quilts, knitting and everything." Blue said. "It's not just the ladies now, men can enter their whittling and carving anything that is handmade or grown house plants or fruits and vegetables that have been grown through the season."
Entries will be on display in one of the cabins, and items will be judged by a panel. Awards will be given for first, second and third places.
Little festival goers can play old timey games like hopscotch, checkers, stilts and marbles. Free pony rides will delight children, and for a small fee, riders of all ages can take a trip on the Cotton Blossom Special, a miniature train that runs a half mile around the back of the property.
The historian will delight in an opportunity to walk through or look inside of historic structures from across the county and state. The historic complex boasts cabins, a corn crib and a springhouse and a general store. The McNiell, Jones-Lytch and Shaw cabins are furnished to give visitors a glimpse of the life of early settlers.
The restored cotton gin will be in operation and festival goers can see a refurbished log tobacco barn.
"The cabins are open and they are interesting to go in. The cotton gin powered with mules will be ginning cotton and people can go upstairs and look as it gins," Blue said. "And there's the restored log tobacco barn. I've been told its only one of four in North Carolina open to the public; most were destroyed by fire or torn down."
There will be demonstrations of how early farmers accomplished chores. A candle maker, woodwright, beekeeper and blacksmith will give visitors a glimpse of the craftsmanship and work that went into everyday living in the past. The will be demonstrations of how to milk a cow, make salt and grind cornmeal and the fresh ground meal will be available for purchase.
The historic complex also boasts a renovated 1920s sawmill.
The Pee-Dee Antique Power Club will be on hand to show off antique hit-and-miss engines and tractors ranging from steam powered to combustion engines.
The crown jewel of the site is the former home of farmer and inventor John Blue. The house was designed to resemble a Mississippi river boat. Tours of the home will be available for a small fee.
"The house is definitely worth a dollar or two to go and look at," Blue said speaking of the hundred year-old home's design and craftsmanship.
The event celebrates the life John Blue who left his mark on farming though his inventions, 1861- 1935.
Blue invented his first farm implement, a cotton stalk cutter, while growing up on his father's farm. The cutter was patented in 1891. The rest of his life was devoted to producing equipment that would make farming easier and increase production. He eventually bought his own farm and began a business to repair farm equipment. According to historians, Blue also created fertilizer spreader which he patented in 1893. He also invented 1-row cotton planters and a line of plow stocks.
Blue later established his own foundry in 1886 to make cast-iron farm machinery.
It is the ingenious spirit of John Blue and other early farmers that the festival celebrates.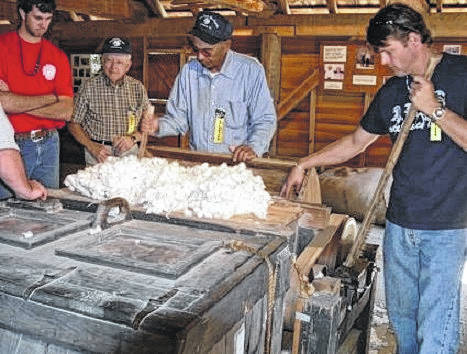 Courtesy photo Volunteers load cotton into the restored mule powered cotton gin that sits on the site of the John Blue historic complex.
Reach Beth Lawrence 910-506-3169