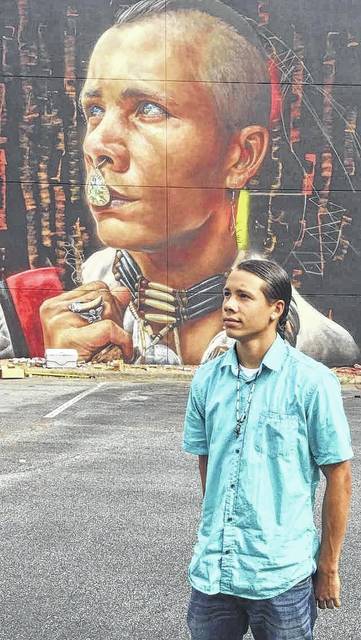 LAURINBURG – Tecumseh Jones went from being a Wagram teenager to an actor and world traveler practically overnight.
Jones, 19, recently returned from Budapest, Hungary where he was a member of the cast of the BBC miniseries, "Jamestown."
The drama, produced by one of the creators of "Downton Abbey" is set in 1619 in the British colony of Jamestown, Virginia. "Jamestown" the first English settlers as they establish a community in the New World, including a group of women destined to be married to the men of Jamestown. The series is also expected to be show in the U.S. later this year.
The Scotland High graduate spent two weeks on the set filming the series, getting to know the culture of the other native actors and the city of Budapest. He was one of 20 American Indian actors chosen from across the U.S. and Canada.
He first learned about his role as a Pamunkey/Powhatan Indian from a post on the Facebook page of Nancy Fields, the curator for the Southeastern Museum of the Native American.
Jones had no acting experience, but he decided to apply anyway.
"I figured why not … it's just a shot. If I don't get accepted, I'll just keep on working," Jones said.
Jones also though the role might provide more exposure to his tribe, the Tuscaroras.
" I thought .. that a lot of people would appreciate someone from our community going to represent us as a community and a people, and a state," he said. "There's not a lot of Southeastern tribes that get recognized."
A construction worker, Jones was on a job when he found out he had gotten the part.
"I broke for lunch and turned my phone on, and my phone kept on updating, so I went to see what all the fuss was about," Jones said. "I saw it and said, well that would be a reason."
Jones was chosen from thousands of applicants, and he was the only person from North Carolina.
Jones had also never traveled outside the US or even flown, but he was soon , was on a plane from Washington DC and on to Budapest.
In Hungary, he joined others from the Cree, Swampy Cree, Chickahominy, Seneca, Navajo and Lakota Sioux tribes as background members of the ensemble cast.
The newly minted actor was intrigued and amazed by how things ran during filming.
"I was surprised at how strict it is on set. When you're not in the scene, you have to be completely quiet because the audio picks up the littlest thing," Jones said. "Makeup was interesting. You get yourself dressed and go to the makeup room to your designated chair. You're in the chair for about 45 minutes while they put on your makeup."
Jones was required to shave part of his hair for the role and he was painted from his chest to his chin in crimson paint.
Though he did not have a major speaking role, Jones was required to learn Algonquin for the lines he spoke in the background. The show provided a language specialist to help actors learn their parts.
Jones knew the story of the Jamestown settlement, but said seeing the show's set helped him to visualize it and put the details together better in his head.
"Acting it out really helps you understand what went on," Jones said. "I was there for two weeks, and the second day is when I started going on set and being part of scenes. The props and everything that was there kind of helped."
Another highlight for Jones was getting to know other native peoples. Like Jones, many of his cast mates had never traveled broadly some never even leaving their reservations.
"Some of them didn't know what to think because some of them hadn't ever been off the reservation. It was a big culture shock," he said.
Jones enjoyed touring Budapest and learning the history of the area, especially the "phenomenal" architecture. He believes his experience with construction helped him appreciate the lines and work of the, in some cases, massive historical buildings.
What impressed Jones most was a walk on the river front and happening upon a Holocaust monument.
"There were bronze shoes. They had men and women's shoes and children's shoes and baby shoes, and I realized it was a monument to all the Jewish children who died in the Holocaust," Jones said. "I thought about what happened to our people and saw that was going on with other people and that made it real."
Though it is not certain that he will be called back to work on the next season of the show, Jones is pleased with his experience and has entertained the idea of continuing acting.
"I could see it; I don't have any immediate plans to join local theater groups, but possibly," Jones said.
Jones' parents Angela and Jeremy Jones are proud of their son.
They worked to instill cultural pride in their three sons Tecumseh, Dekanawida and Osceola, deliberately naming the children after great native leaders.
"We need positive role models another generation can look up to, to say you can do it; you can beat [the odds]," Jeremy Jones said of his son's experience.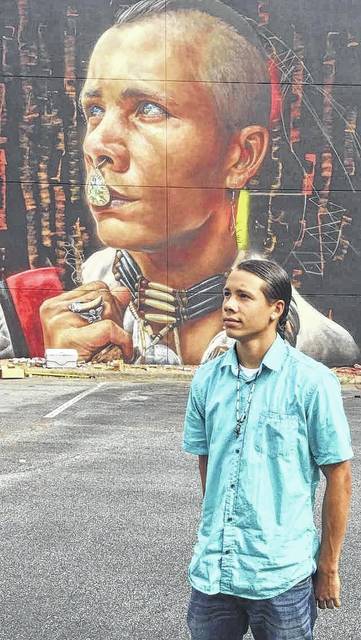 Courtesy photo Tecumseh Jones poses with a mural of himself in native regalia painted by Australian artist Matt Adnate.
Reach Beth Lawrence 910-506-3169