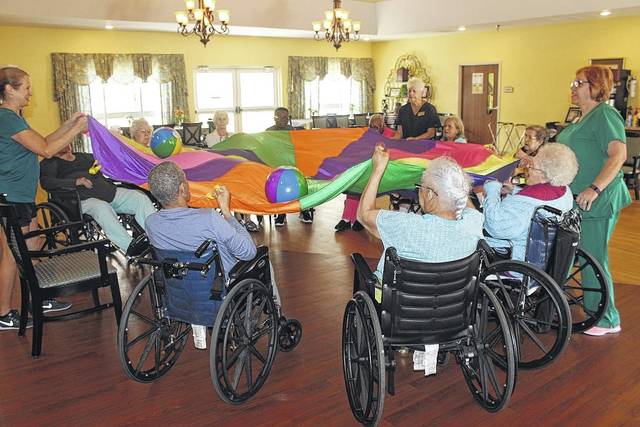 LAURINBURG – Exercise is important at any age, but more so for seniors.
Judy Bell, a resident at Scottish Pines Rehabilitation and Nursing Center, can attest to that.
She is a regular participant in the Healthy Steps Exercise program at the nursing home.
"I think it's wonderful that they offer stuff like this," Bell said. "I can be part of it and watch out for the ones who need help and just be here to help myself. Body, mind and spirit, I guess you'd say."
Bell has been at the facility 14 months and thoroughly enjoys her Wednesday afternoons in the class. She joined the group "almost from the beginning" of her time at the home and said the classes help to relax her and make her feel useful.
The sessions are taught by Maria Bingham, a certified Healthy Steps exercise instructor who teaches the therapeutic exercise class called Creative Arts Play at Scotia Village, Prestwick Village and Scottish Pines nursing homes.
Bingham, a former dance instructor, already knew the importance of movement to maintaining balance and flexibility. But when she learned the importance of gentle exercise to those recovering from and coping with a disease, she became a certified Healthy Steps instructor.
The Healthy Steps program is designed especially for those recovering from cancer, arthritis, Parkinson's disease and other chronic illnesses that can interfere with range of motion, balance, and flexibility and improve emotional well-being, according to Bingham.
Bingham teaches the class at Scottish Pines once a week. She started out at once a month when the facility opened in 2013, but residents loved the program so much that Bingham was asked to come each week, according to Margaret Dickerson, executive director at Scottish Pines.
Bingham "does a great job with" the class and its participants, Dickerson said.
The class is provided at no cost to residents, and seniors can participate as often as they like.
The 149 bed facility sometimes had up to 30 residents join in on the class.
Bingham and Dickerson both say they have seen the positive physical effects the class has on patients.
"I have one lady who is recovering from a stroke and can't use her hand well, but she tries," Bingham said.
Many of the residents use the class in addition to the physical rehabilitation prescribed by doctors, according to Bingham.
Residents are encouraged to work to the best of their ability but are never pushed to do exercises that might injure them.
Bingham tailors the program to the needs of the individual regardless of where they are in the disease process or what their particular illness, according to Dickerson.
Dickerson sees the class not only as an exercise class but an opportunity.
"It makes them feel better; they make new friends, improve their health and range of motion and listen to music they used to listen to," Dickerson said.
Perhaps most importantly, the class gets patients out of their rooms and socializing, according to Tanya Currin director of Life Enrichment Activities at Scottish Pines.
"It helps improve the quality of their life to be able to come out and interact with other residents," Currin said. "Some of them are loners and say they don't want to be around other people, but when they get in here they start laughing and talking and communicating with each other."
The class also makes participants think and focus as they listen to follow Bingham's instructions and emulate her movements which can have a positive effect on brain function, according to Currin.
Bingham plays upbeat music from the 50s and 60s that seniors can relate to and uses everyday items as exercise equipment in addition to stretches.
To help with dexterity and make the time more fun, she incorporates hand-held balls, pool noodles, pom-poms, hoops, pinwheels and a small parachute into the routine along with the typical stretches seen in an exercise class.
The group is asked to do activities like roll the ball along a leg or arm, reach out or wave pom-poms, and even have a noodle sword fight.
Concentration and delight can be seen on the face of participants as they join Bingham in the exercises.
Bingham's interest in her class extends beyond participation. Over the course of the class, she checks to make sure they are comfortable and able to participate. She jokes with them and asks questions about their daily lives and families.
Bingham even reaches out to help her patients recover from procedures.
"I missed a couple of classes because I had surgery on my hands, and she even gave me something to do for them," Bell said of Bingham's concern.
Beth Lawrence | Laurinburg Exchange A group uses pom-pom to stretch and wave to keep themselves flexible and increase their range of motion.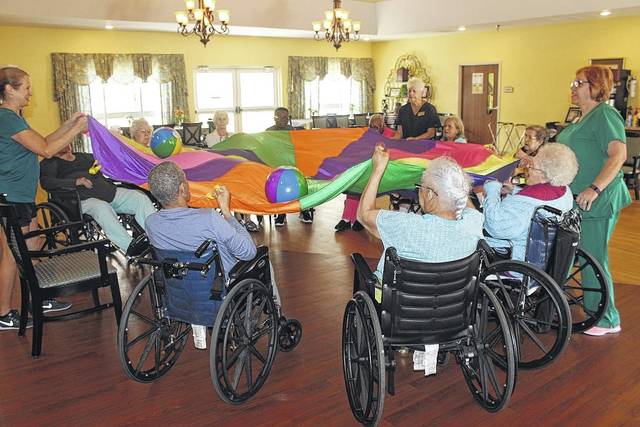 Beth Lawrence | Laurinburg Exchange Residents at Scottish Pines nursing facility use a parachute to move balls around during the Healthy Steps exercise program. The program incorporates non-typical exercise equipment to help keep seniors active.
Reach Beth Lawrence 910-506-3169