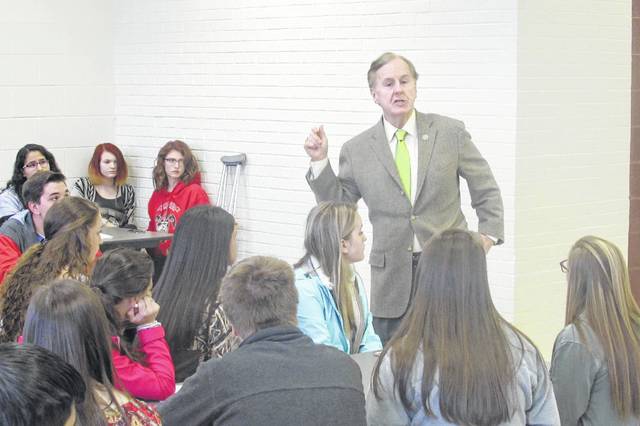 LUMBERTON — A class of civics students had a live action lesson this week when a congressman came in for a Q&A and to share thoughts on how government works.
U.S. Rep. Robert Pittenger, a Republican from Charlotte who represents the 9th District in the U.S. House, which includes Scotland and Robeson counties, told Lumberton High School teacher Anthony Britt's 10th grade advanced placement civics class that when he was their age, he did not appear headed to Washington, D.C., as a lawmaker. He said he got a C in his first government class.
"But I've learned a lot since then," Pittenger said. "Most of what I've learned, I learned post-college, on the streets. And that's life."
Students peppered Pittenger with prepared and off-the-cuff questions on subjects ranging from hate crimes and immigration to education and agriculture.
The civics lesson included a description of committee assignments and caucuses positions held by the congressman and the work they do.
"I'm on the financial services committee, I'm on the committee that gives oversight to all the financial institutions in the country," Pittenger said. "The banks and the credit unions. I deal with anything and everything related to financial investment and even real estate."
The congressman went on to discuss the dwindling number of banks in rural areas of North Carolina and a desire for a deregulation for smaller banking institutions. Pittenger was a bank executive before he entered into politics.
Throughout Pittenger made his case as a conservative and his belief in the power of a free market economy and limited federal government. To questions on public education and the minimum wage, he stressed that market forces and open opportunities could help find solutions for all involved.
"I'm a Federalist, do you know what that is?" Pittenger said, and when the students nodded, he responded. "Good, you've been studying up."
Pittenger told a story about learning principles of leadership from former British Prime Minister Lady Margaret Thatcher while they shared a Rolls Royce around Charlotte.
Thatcher, when asked, gave three pillars for leadership — discover what is the right thing to do, committing your whole self to what you are trying to do, and with all your ability seek to get your friends and family to join your effort.
"Profound," Pittenger said. "So simple."
The 68-year-old is a native of Texas and graduated from the University of Texas. In addition to working in banking, he also has worked as a real-estate investor. He served two terms in the state Senate, from 2003 to 2007 and lost a bid for lieutenant governor in 2008. He has served in the U.S. House since 2013.
At the end of the session, Pittenger offered advice for anyone looking to get involved and told the group that they "are always looking for smart people" in Washington.
Career advice began and ended the congressman's visit. In his opening remarks, Pittenger spoke of the rapidly-expanding field of computer science and cyber security.
"Cyber security is a critical issue for us in the private sector, the banking community and the intelligence community, I don't know how much you are into computer science, but there are enormous job opportunities in cyber," Pittenger said. "There will be a million-and-a-half jobs in the next decade just in the area of intelligence and cyber security in financial institutions and our intelligence agencies. Also in languages … if you will build on your computer, cyber training and languages, you will be a huge asset to a business or if you want to go work for the government."
After the visit at Lumberton High, Pittenger stopped at nearby Robeson Community College for a tour and to see what he could do to help the campus.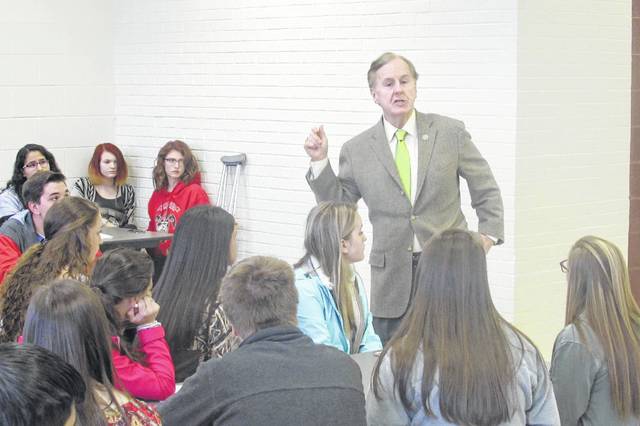 Reach Mike Gellatly at 910-816-1989.
---
8:35 pm |
comments powered by

Disqus